Chiropractor Steven Klink D.C.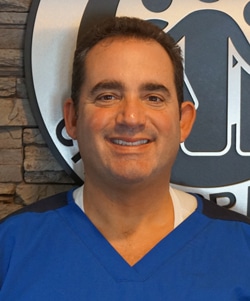 Dr. Steve was born and raised in the Syracuse area. He graduated from Jamesville-Dewitt High School. While in school he played football, and lacrosse, in addition to being a member of the wresting team. Dr. Steve had several sports injuries in the 4 years at JDHS. Growing up in a typical American household these injuries were treated medically.
Dr. Steve attended LeMoyne College after graduating from JD. While at LeMoyne Dr. Steve was on the school's lacrosse team. Dr. Steve had a low back sports related injury playing college lacrosse. Having had very little success with previous medical care, Dr. Steve grudgingly decided to try chiropractic. Dr. Steve's first chiropractic adjustment changed his life. He not only felt better, but he was healthier too.
Dr. Steve continued his chiropractic care to correct the problems his chiropractor found. Throughout the care he learned more about the practice of chiropractic. Dr. Steve continued playing lacrosse at LeMoyne. He graduated in 1988 with a BS in Biology and a dual minor in Chemistry and Philosophy. Dr. Steve then attended Los Angeles School of Chiropractic. He graduated from LACC in 1991. Dr. Steve came back to the Syracuse area and Practiced for two years with his original Chiropractor.
In 1994 Dr. Steve opened Family Chiropractic North in North Syracuse. In 2003 Dr. Steve purchased the building that Family Chiropractic Prevention Center is now located in. Throughout the 2 years in group practice and 28 years in private practice, Dr. Steve has had the pleasure of meeting thousands of people. He enjoys welcoming these people and their family into the office as practice members.
Dr. Steve's passion continues to be helping families improve their health. The power of Chiropractic adjustment to change and enhance the function of the body and the nervous system is still awe inspiring to Dr. Steve.
Education
Los Angeles College of Chiropractic 1991
LeMoyne College 1988
Associations & Memberships
New York Chiropractic Council
Foundation for Vetebral Subluxation
---
Our Mission continues to be helping families and individuals attain their best health possible. In turn this allows our practice members to achieve their peak potential and the highest quality of life. We have been helping our community since the office opened in 1994 in North Syraucse, NY 13212 and we expanded our mission when we moved to Liverpool, NY 13090 in 2003.
---
Stephanie DeSantis
Office Director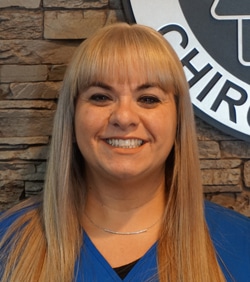 Stephanie was born and raised in the Syracuse area. She graduated from Bishop Grimes High School and attended Western New England University for business management. Stephanie helped run her family's business in Syracuse, Rochester and Binghamton. She then moved to Pier 1 where she managed the store on Bridge Street. Stephanie joined Dr. Steve at Family Chiropractic Prevention center in 2012 with a passion to help whole families be healthier through chiropractic.
---
Skye Stevenson
Tech CA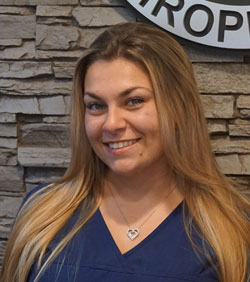 Skye was born and raised in Central New York. She graduated from Baldwinsville High School in 2015. She spent 4 years in an optical lab and now is pursuing her career in Chiropractic care. She enjoys spending time with her family and friends in her free time. Her number one goal with us is trying to help others reach their peak health.
---
Libby Rookey
Chiropractic Assistant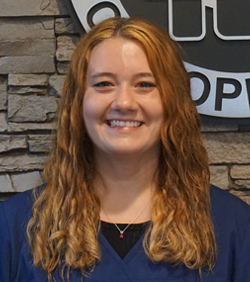 Libby was born and raised in Oswego New York. She graduated from Oswego High School in 2017. She spent 4 years studying Exercise Science at SUNY Potsdam. She enjoys spending time outside, and spending time with loved ones. In her free time, she enjoys hiking with friends. She joined Family Chiropractic Prevention Center in 2022 to help others reach their wellness goals and have a better understanding of Chiropractic care.
---
Jessica Gonzalez
Chiropractic Assistant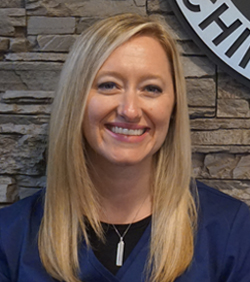 Jessica was born and raised in Kansas City, Missouri until 2000 when her family moved to Phoenix, Arizona. After getting married in 2016, she moved abroad to her husband's hometown of Palma, Spain where they lived for 5 years together before moving to the Syracuse, NY area in 2022. She has a passion for music and languages and enjoys spending time with friends. She was an online English teacher for over 12 years and a fitness instructor. She also has a background in the medical field working as a Medical Assistant in Podiatry. She loves helping people and is enjoying pursuing her career in Chiropractic care.
Monday
8:00am - 1:00pm
3:00pm - 6:00pm
Tuesday
Closed
Wednesday
8:00am - 1:00pm
3:00pm - 6:00pm
Thursday
8:00am - 1:00pm
3:00pm - 6:00pm
Friday
Closed
Saturday
Closed
Sunday
Closed